A Distributed Denial of Service (DDOS) attack is something that makes even the hardiest of webmasters and administrators cringe.  A DDOS attack, when done correctly, can bring a website to its knees, costing precious pageviews and ad revenue.  DDOS attacks are becoming more advanced, and so the smart webmaster will seek to mitigate the damages such an attack can cause.
Genius Guard is Best DDoS Protection!
 Genius Guard brings you highly dependable DDoS protected hosting solutions and gives you great peace of mind. With our advanced DDoS mitigation, you will be able to give your brand very secure online presence. Genius Guard is a name that you can trust when it comes to shared hosting. We have been in this industry for several years and our expertise will certainly be your advantage.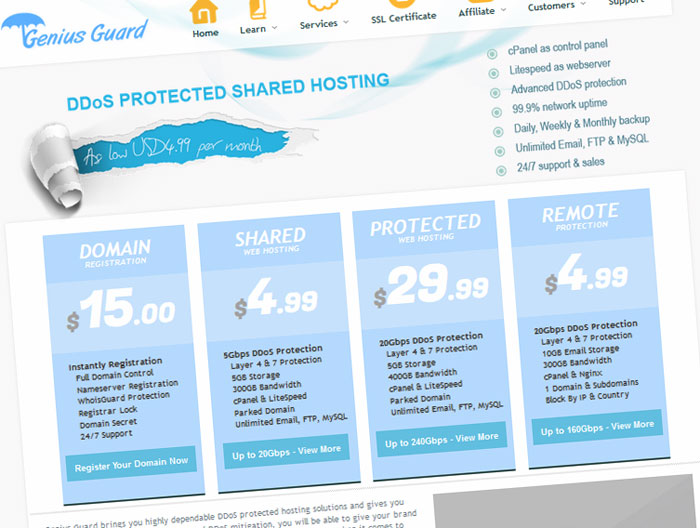 Choose our protected hosting, save your websites from the hackers and from the unscrupulous elements online. Genius Guard brings you the best-in-class hosting services. We are equipped with the latest and the most advanced hosting equipment to provide you with unprecedented services. When you choose our DDoS protected hosting you will receive our satisfaction guarantee.
 Genius Guard offer highly professional DDoS protected hosting packages. We provide our clients with a wide range of DDoS protected hosting services to accommodate a variety of requirements from the computer beginner seeking DDoS protected hosting services, to the professional who is well versed in the ins and outs of DDoS protected hosting.

Support
Our support staff are available 24/7/365 and are extremely dedicated in what they do. If you have any problems or technical questions you need expert advice on, please drop us a support request. Assisting our clients is one of the aspects of our business we take the most pride in.

Extreme Security
We offer a range of security services to our customers. All servers are carefully monitored and automatic Anti-DDoS gear is in place to mitigate attacks on our clients sites. We can block any type of attacks includes TCP, UDP, ICMP and DNS attack.

Offsite Backup
Daily offsite backups are done of the OS and all data. So you never loss any data during server crash. Our backup panel in cPanel allow you to restore your backups anytime. You are able to restore full backup or only files or database.

Geographically Nameservers
We have Nameservers in USA, Europe, Middle East and Asia. Nameservers which are in geographically diverse locations allow your domain name records to be answered even in the very unlikely event the hosting platform or the other Nameservers is down.

Powerful Servers
All of our servers produced with latest and powerful hardware, including E5 CPU for fast processing, 16X RAM and SSD with RAID10 technology to avoid losing data against HDD failure.

Free Services
We offer a wide range of free services to our customers, including free SSL installation, Custom Name Server, Name Server setup, script installation help and more.
Genius Guard offer highly professional remote DDoS protection using reverse proxy. By using a reverse proxy you able to hide your website origin IP behind of our reverse proxy IP and stay with your current hosting, You need to point your domain to our reverse proxy IP and all traffic pass from our reverse proxy IP and DDoS protected network and reach your origin hosting. Our reverse proxy are DDoS protected against all type of attacks and included a powerful Web Application Firewall and speed acceleration.
Note:
The remote protection service is suitable only for those that need hide they origin hosting IP address behind of a DDoS protected IP address to keep their website safe from DDoS attack. It only pass HTTP/HTTPS traffic, so it is not suitable for any services except HTTP/HTTPS.
HYIP Hosting
Genius Guard offer highly professional DDoS protected HYIP hosting packages. We provide our clients with a wide range of DDoS protected hosting services for HYIP, Surf, MLM, Cycler and any financial business.
Support

Reliability & Uptime

Price & Value for Money

User-friendliness

Server & Network Speed
Reviews
Genius Guard listed on most Webhosting directories. Check our review page and send your rate and review about Genius Guard services.